Alebrijes are Mexican handicrafts that represent fascinating figures that have become popular all over the world. These pieces of art emerged in the first half of the 20th century created by the renowned Mexican artist Pedro Linares López.
The extent of their popularity has led to these multi-colored creatures being exhibited in various venues. It is common to find alebrijes in public squares, markets, and renowned museums inside and outside of Mexico.
These types of traditional crafts are usually paper-mâché figures. Alebrijes are fantastic figures that combine physiognomic elements of various animals. It can be real or imaginary and painted with vibrant colors.
Origin of Alebrijes
When talking about the origin of alebrijes, we need to talk about the story of its creator Pedro Linares López. This artist was born in Mexico City in 1906 and inherited from his father the traditional art of making paper-mâché sculptures, an occupation known as cartonería in Mexico.When Pedro was 12 years old, he already knew how to make piñatas very well; he also made gloomy figures for the Day of the Dead and the Judas figures on Christmas Eve.
Since then, this artist became an expert in this craft. But when he was 30 years old, a terrible disease that brought him to the brink of death rendered him unconscious and plunged him into a strange dream. According to Pedro, he saw himself in a forest where strange and fantastic creatures lived. These beings accompanied Pedro for a long journey until he regained consciousness.
In his dream, the artist claimed that among the creatures he saw a donkey with butterfly wings, a lion with a dog's head, and a rooster with bull's horns among other strange animals. In addition, he heard that these beings shouted in chorus: "Alebrijes, Alebrijes…". From this peculiar dream, the idea of creating these beautiful creatures and their name of them arose.
From Dream to Reality
After recovering completely, Pedro Linares decided to make known those strange beings who had accompanied him during his illness. Making use of his skills as an artisan, he began to take pieces of paper and model the figures that he had in his mind.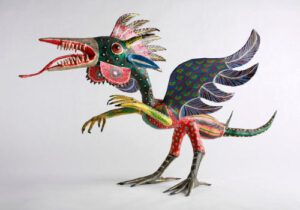 The figures were representations of what he had seen in his dream and the alebrijes were born. Such was the impression these creatures made throughout Mexico that they later became known in Latin America, the United States, and Europe.
In 1990, Linares received the National Prize for Sciences and Arts for his outstanding artistic work. This award was a recognition to the author for maintaining and preserving the popular traditions of Mexican art.
The artist passed away two years later at 86, leaving the alebrije culture alive, today a tradition continued by his relatives and other Mexican artists. Linares created several alebrijes for other renowned artists like Frida Kahlo and Diego Rivera. This collection is in the Anahuacalli Museum in Mexico City.
Monumental Alebrijes Parade
Alebrijes are an important part of the Mexican cultural and artistic imagination. For this reason, since 2007, the Museum of Popular Art of Mexico City has organized the Parade of Monumental Alebrijes. A pompous event that promotes the art and popular culture of Mexico.
The event takes place every year at the end of October. In this parade, hundreds of artisans take great care making alebrijes up to 4 meters high to take them for a walk through the historic center of the Mexican capital. It is a great party that includes dance, music and many colors.
Oaxacan Alebrijes
Alebrijes were born in Mexico City, but their popularity spread throughout the country, and many artisans from other states began to make their versions. Such is the case in Oaxaca, where make alebrijes with carved wood. In addition, Oaxacan alebrijes are inspired by nahuales, supernatural beings that can transform into animals.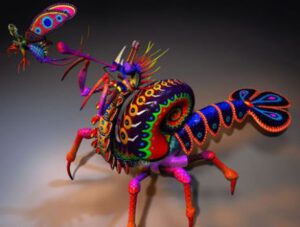 We also invite you to read our post:The Unique Venezuelan Zulian Gaita