Carnival is a word that refers to a celebration of ancient origin that has spread throughout the world. In Latin America, we could say that a carnival is a party lived all year round despite difficulties.
However, when the carnival arrives, it is impossible not to think about samba, garotas, parades, costumes, and a lot of partying. Every year, the Latin American streets overflow with that spirit of joy that characterizes us.
Undoubtedly, the carnivals of Rio in Brazil and Barranquilla in Colombia are among the best known in the world. But of course, throughout Latin America, other carnivals that are not as well known are worth experiencing at least once in a lifetime. Therefore, in this post, we will talk about some of the carnivals in South America that we may not have known.
[useful_banner_manager_banner_rotation banners=22,18,5 interval=8 width=728 height=90 orderby=rand]
Gualeguaychú Carnivals
Perhaps, the Gualeguaychú Carnivals in Argentina are one of the most widespread festivals in this country. As expected, it is almost impossible to take two months of vacation. However, you can choose a Saturday from January to February to enjoy these carnivals.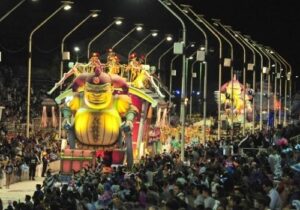 Gualeguaychú, belongs to the province of Entre Ríos and is located 200 kilometers from Buenos Aires. This celebration is known as "The Carnival of the Country". It is a party that attracts a large crowd of people and has its Sambodromo, which they call Corsódromo. In the Corsodromo some different groups and bands make people dance to the rhythm of samba and typical Argentine music. It is also common to see feather and glitter costumes throughout the carnival celebration.
Montevideo Carnival
The Montevideo Carnival in Uruguay is another of the most widespread celebrations in Latin America. This festival always begins the third week of January and ends in mid-March. Like others, this event begins with an opening parade of the troupe, floats, costumes, and lots of dancing. This parade is followed by shows and performances featured by renowned Uruguayan artists and musicians. There are also comedy shows that feature classic skits and skits.
This carnival is well loaded with music, dancing, drumming, comedy, and theater from start to finish. The Montevideo Carnival is a unique mix of African and European customs and traditions. The roots of this celebration have their origins in the times of the slave trade.
[useful_banner_manager_banner_rotation banners=19,15 interval=8 width=728 height=90 orderby=rand]
Carnivals of El Callao
Another carnival that is not well known is the carnival of El Callao in Venezuela. This event starts the week before Carnival Monday and Tuesday.
This carnival is recognized by UNESCO as an Intangible Cultural Heritage of Humanity due to its incredible ancient tradition. In addition, it usually lasts until March and is full of parades with historical or mythical characters. The madams, the half pintos, and the devils are the most typical characters of this carnival.
These are just some of the peculiar carnivals that take place in Latin America, but of course, we know that this festivity is celebrated throughout the region. We invite you to read our post "Hispanic Music Genres"