Christmas movies are a tradition of the Christmas season. It's like eating turkey, panettone, or receiving gifts from Santa Claus. Christmas movies are part of the celebrations in December. In this post, we will talk about some Latin American Christmas movies.
Of course, there are films considered Christmas classics, which generally belong to the great Hollywood film industry. "Home Alone", "National Lampoon's Christmas Vacation", "Miracle on 34th Street" or "It's a Wonderful Life" among many others are some of the most enjoyable films the days before and after Christmas Eve.
However, there are also cinematographic works that show another perspective of Christmas. Latin America, for example, has stood out in recent years for highlighting movies made in this region. Among so many categories, Latin American Christmas cinema has also emerged. These are some outstanding titles of Latin American Christmas movies.
Santos Peregrinos
One movie of Mexican cinemas of the modern era is "Santos Peregrinos" a 2004 film. It is a Mexican Christmas story, which reflects the celebrations of the Christmas season and the ambition disguised as goodness.
In this film, the hero of Mexican independence, Emiliano Zapata, gives some Christmas figures to a woman with a baby. 85 years later, an old man who claims to be Zapata's son celebrates Christmas Eve with these figures and dies days later. The event happened in a classic neighborhood in Mexico City, where neighbors discuss who should keep the figures.
They create a battlefield for the figures, and all kinds of hilarious situations typical of Mexican humor occur. The fight begins when the neighbors discover that the figures of the pilgrims are of gold.
The Magic Night
Latin American comedy is almost always present in all the films made in that region. "The Magic Night" is one of those cinematographic works that do not escape Latin humor. It is the title of a typical Christmas movie, where Santa Claus sleight and reindeer throw the gifts down the chimneys.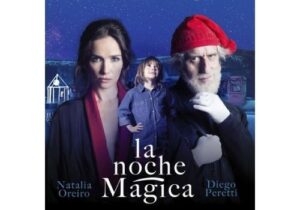 This is a co-production film between Argentina and Uruguay that shows a different perspective on the traditional formula of Christmas movies. A dysfunctional couple and their little girl, infidelity, and a thief with a white beard mistaken for Santa put the humor to this movie.
On Christmas Eve, Kira betrayed her husband with another guy named Cachete. They were in the bedroom when John, (Kira's husband), got home. Then, Cachete went to the balcony to try to hide. But suddenly he found something worst, a thief with a white beard and a red suit like Santa Claus.
The thief proceeded to handcuff everyone present. Meanwhile, the robbery is complicated when he meets Alicia, the couple´s daughter. When she saw the thief, she thought he was Santa Claus and extended a Christmas wish list to him.
A Christmas Summer
Another film that is part of the Latin American Christmas cinema is the Peruvian "A Christmas Summer". It is a musical comedy that tells the story of a hardworking woman who is home to 4 orphaned children with totally different personalities.
An accident will put them in trouble just days before Christmas, forcing them to raise funds for a medical operation. In this film, released in 2017, the crew created music focused on the arrival of Christmas. The same actors performed all the songs.
Christmas
"Christmas" is a Chilean film from 2009. Three teenagers from Santiago de Chile, with many problems, ended up spending Christmas Eve together.
Alejandro and his girlfriend, Aurora, visit the house of Aurora´s late father on Christmas Day. Then, they found a 15-year-old girl on the run, alone and lost, who became their companion during that long Christmas night. They told each other's problems and explore their sexuality.
Due to the theme, "Christmas" is considered a film for an adult audience.
2 Dads at Christmas
This Ecuadorian film from 2017 tells the life of Belen, a young woman with Down Syndrome that managed to become an Olympic swimmer. Abandoned by her biological father, Dr. Matías Santander, she grew up with her mother and stepfather.
That change one Christmas eve of one important swimming tournament when her life is turned upside down with the return of her biological father after 20 years of absence.
The return of Belén's father after so many years fuels the young swimmer's excitement to meet him. At the same time, discomfort is generated with the girl's stepfather, who has to live with Belén's biological father.
These are just some of the movies of the Latin American Christmas cinema. A different touch to the typical Christmas movies. You can enjoy these cinematographic works through the different streaming platforms on the internet.
We also invite you to read our post: "Traditional Christmas food from Latin America and the Caribbean"